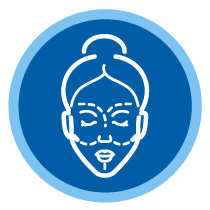 Facial Plastic Surgery
Click on a link below to learn more about our Facial Plastic Surgery.
Skin Cancer Removal and Reconstruction on the Face and Neck
Skin cancer is the most common form of cancer in the United States. It involves abnormal growths of skin cells that can form anywhere on the body, but most frequently appear in areas that are regularly exposed to the sun such as the skin of the face, head and neck. In addition to excessive sun exposure, certain factors, such as fair skin, moles and aging, can also increase the risk of skin cancer.
Basal cell carcinoma is the type of skin cancer most frequently found on the face, head and neck. While these lesions can often be removed with a minimally invasive procedure when caught early, all forms of cancer carry a risk of metastasizing to other sites. Therefore, skin exams should always include a thorough check of the entire head and neck to ensure that any abnormal changes are discovered quickly.
Mohs micrographic surgery is a safe and effective treatment for skin cancer that thoroughly excises the tumor while only mildly disturbing surrounding tissue. It is the only skin cancer treatment available that targets just cancerous tissue through comprehensive microscopic examination of the affected area.
Mohs surgery excises not only the visible tumor but also any roots that may have extended beneath the surface of the skin. Five-year cure rates have been demonstrated up to 99 percent for first-treatment cancers and 95 percent for recurring cancers.
This procedure is most commonly used for the treatment of basal and squamous cell carcinomas, although it can also be used to treat melanoma and other types of cancer. Mohs surgery is often recommended for recurring cancer because its results are so thorough. It is also ideal for treating cancer in cosmetically and functionally prominent areas such as the face, head and neck.
---
Cosmetic Surgery of the Face, Nose and Eyelids
Facial cosmetic surgery is a great way to not only change your appearance, but also boost your self-confidence and help you look as young as you feel. Whether you want to sculpt a facial feature, smooth wrinkles and tighten loose skin or correct a problem, a wide array of procedures exist that can help you achieve the appearance you desire. Every surgery performed is based on a customized plan of treatment designed to meet all of the patient's goals. Below are some of the most popular cosmetic procedures we perform.
Rhytidectomy (Facelift)
Over time, gravity and sun exposure take their toll on the face and neck.  Deep creases begin to appear from the sides of the nose and the corners of the mouth; the jawline slackens, jowls begin to appear; and the neck develops loose folds. A rhytidectomy (facelift) counteracts the signs of aging by tightening muscle, removing fat and trimming excess skin, giving your face a refreshed more youthful appearance.
Rhytidectomy improves the look of the lower and middle areas of the face, and the neck. There is no ideal facelift and the goal is to improve the overall facial appearance. It is most effective at correcting the following:

mid-face sagging
nasolabial folds
jowls
sagging fat
loose skin and fat under chin and jaw
Although rhytidectomy may improve signs of aging, it cannot stop the aging process. Rhytidectomy does not improve the look of the brow, eyelids and nose, and some areas of the mid face. A patient who wishes to improve these areas may need to consider combining rhytidectomy with a brow lift, or eyelid surgery. The adjunctive use of injectable soft tissue fillers, implants, and or skin resurfacing may need to be considered.
Blepharoplasty
Droopy eyelids can contribute to the aged appearance and can impair vision. In the lower eyelids, puffiness and bags under the eyes can also make one look worn and tired.
Eyelid surgery, is a procedure that improves the appearance of the eyelids by tightening muscles and tissue or removing excess fat and skin. This procedure does not alter the dark circles of the skin, the fine lines or wrinkles around the eyes, nor does it change the sagging position of the eyebrow.
The blepharoplasty procedure is performed under local anesthesia with sedation as an isolated procedure or in conjunction with other procedures including brow lift or facelift. Patients may choose to have this procedure on their upper or lower eyelids, or both.
Brow Lift
With aging the upper third of the face develops frown lines, wrinkling across the forehead and an increased heaviness of the brow. This lead to appearing tired, angry or sad.  Correction of this is achieved through a forehead lift, which can be performed through a variety of different methods.
Placement of the incision varies depending on the location of the hairline and whether or not skin and tissue will be removed as well. The procedure can be performed through incisions made at the mid forehead or hairline or through smaller incisions and the use of an endoscope. Muscles contributing to frown lines are addressed and sagging eyebrows are lifted.
Rhinoplasty
Nose surgery, can reshape, reduce or augment a person's nose to achieve facial harmony and improve breathing through the nose. While there is no perfect nose, the end result aims to soften a distraction, bring balance with other facial features and often boost self-confidence.
Multiple factors may influence the outcome of the surgery – including the skin type, ethnic background, prior history of trauma, age, severity of the deformity. Incisions are made primarily inside the nose resulting in minimal to no visible scarring. Cartilage and bone are structurally sculpted while maintaining and or improving structural support to the airway. It is usually an outpatient procedure that is performed under IV sedation or general anesthesia.
Chin Augmentation
Using a chin implant the chin and jaw line can be strengthened to improve facial proportion. When combined with rhinoplasty, this is referred to as a profileplasty as each procedure is used the complement the overall facial profile and improve facial harmony. The procedure may also be considered to improve the jawline and chin-neck angle with or without cervical liposuction or facelift.
Otoplasty
Otoplasty is a procedure to correct protruding ears. Children have frequently been victims of name calling on the playground due to this visible distraction which can lead to poor self esteem and adaptation in school. The procedure can be performed at any age and in children as young as five to six years of age. The procedure does not affect hearing. The ears can be reshaped, "pinned back", reduced in size and or addressed to improve symmetry. This procedure can be performed in the office with a local anesthetic combined with a mild sedative or under general anesthesia in an outpatient surgical setting.
Scar Revision
Scars are by definition permanent, but certain treatments can narrow, fade and otherwise make them less noticeable, which is especially helpful when they form on conspicuous areas such as the face and hands. Although there are many surgical scar-revision methods, including surgical excision, skin grafts and flap surgery, not all are appropriate for treating all types of scars. The best procedure for scar revision varies depending on the location and severity of the scar, the age and overall health of the patient, and the extent of revision the patient wants.
---
Minimally Invasive and Non-Surgical Procedures of the Face
Vivace®
The Vivace® Microneedle RF device uses a combination of radio frequency, microneedling and a specialized serum to create a minimally invasive treatment that stimulates collagen production. This FDA-cleared procedure is shown to be effective in alleviating facial wrinkles, fine lines and tightening and toning of the face and neck. The treatment itself takes around 45 minutes and you can be back to your normal routine immediately following.
Renuvion™

RenuvionTM is a new revolutionary technology that can be used to rejuvenate and tighten skin on the face and neck in the office, without the need for general anesthesia. The device combines cold helium plasma with radiofrequency energy to deliver precise tissue tightening with less trauma and thermal injury to surrounding tissues.
Click here for more information!
KYBELLA™
Kybella™ is a revolutionary nonsurgical way to address the cosmetic condition known as double chin. With this injectable medication, with the active ingredient deoxycholic acid, Florida E.N.T. & Allergy can eliminate moderate to severe levels of bulging skin and fat deposits below the chin, helping produce a better contoured, more lifted and noticeably more attractive appearance.
Kybella™ is given in a 15 to 20 minutes in-office treatment. The area will first be cleansed, marked out, and then topically anesthetized. Kybella™ will then be injected into the area in 10 to 30 sites. The benefit takes between four and eight weeks to appear. Slowly but surely, after a series of between 2 to 4 treatments, the striking benefit becomes very noticeable, but once completed, destroyed cells will no longer be able to accumulate fat. The number of injections and the number of treatments is determined by how much submental fullness you have.
BOTOX® Cosmetic
BOTOX® Cosmetic is a prescription drug that, when injected, temporarily relaxes muscles. It contains a purified and safe form of botulinum toxin A, which is produced by the microbe that causes botulism. Manufactured by Allergan, Inc., it is used to treat persistent furrows and deep wrinkles in the skin that have formed by the continual contraction of facial muscles. It is most frequently used to address frown lines between the brow, the lines of the forehead and the crows feet.
Hyaluronic Acid Fillers
Hyaluronic acid is a sugar that naturally occurs in the skin that helps hydrate and add volume. Hyaluronic acid in the skin may diminish with age, contributing to the formation of wrinkles and folds. Available injectable hyaluronic acid fillers include JUVÉDERM® Injectable Gel, and Voluma®. These fillers are smooth consistency gels that help hydrate, correct mild, medium and deep wrinkles and folds, and can restore volume to deficient areas of the face that develop with aging. Areas that can be frequently improved include the folds that run from the nose to the corners of the mouth (nasolabial folds). The results may last as long as 6-12 months and up to 24 months with Voluma.
Non-Ablative Fractional Resurfacing
The Palomar ICON™ System is a 1540nm non-ablative laser which delivers an array of microbeams below the skin surface into the dermis to improve a variety of skin imperfections. This laser promotes the generation of collagen and elastin by the delivery of columns of energy into the dermis. Zones of treated columns amongst untreated skin stimulates faster wound healing resulting in smoother, firmer, more elastic skin with more even tone and color. Because the top layer of skin remains intact, healing is rapid with little or now downtime. It is an excellent treatment option for the management of rough sun damaged skin, fine lines/wrinkles, surgical and traumatic scars, acne scarring and for the improvement of pore size. It also has demonstrated FDA approval in the improvement of stretch marks by up to 75%. Optimal results are frequently achieved with a series of 3-4 treatments depending on the area of concern.
Intense Pulse Light
A photofacial incorporates pulsed light to target pigmented blemishes and facial veins to improve the surface appearance of the skin. The depth of the wavelength provides limited dermal modulation to stimulate collagen and may also provide improvement in fine lines and wrinkles as well. With as few as 1-3 treatments, a photo facial or series of IPL treatments can reverse the visibly damaging effects of the sun and provide rejuvenation of the face with limited downtime. A series of treatment may also be an effective treatment option to improve the facial flushing and ruddy complexion associated with Rosacea. Typically following treatment, pigmented lesions will turn a darker color and over the course of 5-10 days will disappear.
---
Corrective Facials
HydraFacial

HydraFacial uses patented technology to cleanse, hydrate and exfoliate your skin. This one-of-a-kind treatment is broken up into three steps:
1) cleanse + peel
2) extract + hydrate
3) fuse + protect
In just 30 minutes, you can see an improvement in a variety of skin issues including fine lines, elasticity, brown spots, enlarged pores and skin texture.

Clarifying Teen Facial

This clarifying teen facial deep cleanses, soothes and balances skin while helping with major or minor acne breakouts.

Complexion Perfection Facial

This customized treatment addresses the underlying causes of unwanted pigment to even your complexion, including blemishes from the sun, pregnancy, or past blemishes.

Age Defying Facial

Our rejuvenating treatments are customized to treat and control fine lines, wrinkles, sun damage, uneven texture, smoker's skin and laxity. This combination of advanced peel solutions provides dramatic improvements in the health and appearance of aging skin.

Sensitive Skin Facial

These gentle treatments infuse the skin with anti-inflammatory, redness reducing and skin strengthening ingredients for patients who suffer from Rosacea or red, irritated skin. This formulation contains antioxidants and enzymes that leave skin smooth, purified, glowing and radiant.

Detox/Deep Pore Refining Treatment

This advanced treatment is excellent for patients in need of skin clarity. It is designed to brighten the overall complexion, hydrate the skin, help control the production of bacteria and reduce the occurrence of acne breakouts.

Deluxe Gentleman's Facial

This custom-made treatment is dedicated to the specific needs of a modern man's skin. The deep pore cleansing facial hydrates and rejuvenates the skin. Facial includes hot towels with neck, chest and arm massage, and with microdermabrasion.

Oxygenating Facial

The Oxygenating/Antioxidant Therapy Facial stimulates oxygenation and circulation within the skin, rejuvenating sluggish, stressed or acne affected skin as it draws oxygen to the surface, resulting in a radiant, healthy glow lasting up to ten days. For this treatment, we use the Oxygenating Trio from PCA Skin.

Harmony/Cancer Care Facial

This soothing and revitalizing facial is designed to gently awaken the senses while encouraging a restorative balance of harmony to the skin. The Harmony Facial captures the essence of refreshing and therapeutic bio-nutrients and brings forth vibrant energy and circulation. Powerful antioxidants, essential vitamins, and penetrating hydrators restore optimum tone, clarity and resilience, addressing the unique concerns of patients undergoing chemotherapy and radiation treatments.
---
Additional Minimally Invasive and Non-Surgical Procedures
TempSure
TempSure Envi technology uses heat to emit radio frequency waves that reach deep into the skin to regenerate collagen. This painless treatment can be used anywhere on the body including face, abdomen, above the knees or even behind the thighs. The procedure lasts roughly 20 minutes per body part and requires no down time. Some results will be noticed immediately following while full results show in about 4-6 weeks after your appointment.
EmSculpt
EmSculpt is a non-invasive procedure that helps both men and women build muscle and sculpt their body. The procedure induces powerful muscle contractions that forces your muscle tissue to adapt; resulting in muscle building. As an example, using the EmSculpt for 30 minutes on your abdomen area is equal to about 20,000 normal crunches. Each treatment lasts 30 minutes and a minimum of 4 treatments is recommended. Some results are visible immediately after treatment, with most users reporting positive results 2-4 weeks after their last session.
---
Skin Care Services
Back Facial
Back facials are great for treating the hard to reach areas of the back, where many people experience clogged pores and breakouts. This treatment includes a thorough cleanse and exfoliation. It will treat any congestion to reveal brighter and smoother skin. A customized mask is applied to clarify and soften the skin, while a massage of the back, neck, and arms sends you to a place of peace and serenity.
Chemical Peels PCA Skin Corrective Treatments
Professionally applied peel solutions exfoliate dead skin cells and help healthy skin cells rise to the surface. These treatments allow deeper layers of fresh and untouched skin to be revealed. The result of monthly treatments can even skin tone, clear acne, improve the appearance of aging skin and make dull complexions glow. Peels are safe for all skin types and PCA certified professionals are trained to identify what treatment combination is safe for each person's skin to reap the greatest benefits.
Microdermabrasion
Microdermabrasion treatment utilizes a patented diamond tip wand to gently remove dead skin cells and stimulate cellular turnover resulting in a healthy glow without the use of messy crystals or harsh abrasive powders.
Dermaplaning
Dermaplaning, also known as microplaning or blading, is a skin treatment that uses an exfoliating blade to skim dead skin cells and hair from your face. Each session lasts roughly 20 to 30 minutes and is fit for all skin types. Dermaplaning aims to soften your skin's surface while also helping with acne scars, fine lines and dull/dry skin. Contrary to popular belief, this treatment will not make your facial hair grow back thicker or darker!
Waxing
We offer an array of different waxing services.
LED Light Stim Therapy
This treatment is natural and safe for all skin types, promoting deeper absorption of serums and creams, as well as stimulating collagen and elastin production. Patients will enjoy a more radiant, youthful glow after the service. LED Light Stim can also help to calm and heal after microdermabrasion, acne treatments, chemical peels, waxing, extractions, IPL and surgery.
---
Skin Care Products
At a time where there are endless choices with baseless claims, choosing which skin care products are most appropriate for you can be a daunting task. The products made available through our office have been carefully hand-selected to provide scientifically proven results – helping your skin look and feel great while providing long term benefits and reversing the signs of aging. Our products available include:
LATISSE® eyelash enhancer is the first and only U.S. Food and Drug Administration-approved cosmetic treatment for increasing the length, thickness and darkness of eyelashes. Available only through prescription, it is applied once a day to the base of the upper eyelashes. Results may be apparent within four weeks; full results take sixteen weeks.
PCA SKIN products focus on targeted, medical-grade skincare for every skin concern. Whether you have dry, oily, combination or even acne-prone skin, PCA has a product to fit your needs. All PCA formulas are researched, designed and executed by their in-house PhD chemist. They address each skin condition holistically, with products combining the newest and most efficacious ingredients paired with proven, tried and true ingredients to create unparalleled, visible results.
Skinade is a multi-award winning, natural peach and mangosteen flavored anti-ageing collagen drink. This product contains a formulation of active ingredients that aims to boost your body's natural production of collagen and hyaluronic acid. Skinade differs from traditional oral supplements by increasing the absorption rate in your body. The collagen and essential ingredients in Skinade are in liquid formulation and 90% to 95% are absorbed by the body, while tablets offer an absorption rate of only 30% to 40%.

ISDIN continues at the forefront of skincare research, pushing the boundaries of cosmetic formulation. They work hand-in-hand with scientific communities and physicians to provide a range of advanced skin solutions suited to your skin's every need.

ALASTIN Skincare® provides a comprehensive collection of cutting-edge products for optimal procedure results and daily skincare regimens. Click the link below to view and purchase products. Learn More About ALASTIN Skincare®
---
Intense Pulse Light Hair Removal
IPL hair removal produces light energy which is then absorbed into the dark pigment of the hair to cause damage to the follicle. Hair growth is then reduced without damaging the surrounding tissue.
Eyebrow/Eyelash Tinting
We offer a variety of shade options which provide youthful results. For best results, arrive wearing no makeup and remove contact lenses.
NUTRAFOL
Clinically proven Hair Growth Nutraceuticals that multi-target root causes of thinning hair naturally through whole-body health. Click the link below to view and purchase products. Learn More About NUTRAFOL