Florida E.N.T. & Allergy (FENTA) is proud to announce that Dr. Scott Anderson was elected to full equity partner status, effective February 1, 2022.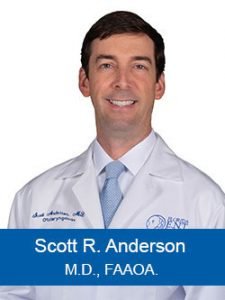 Dr. Anderson has served patients in the Tampa Bay area for many years. He joined FENTA in February 2019 from Suncoast ENT Surgical Specialists, where he had an established practice. He is a board-certified otolaryngologist who received his B.S. cum laude from Washington and Lee University, and went on to earn his M.D. from Eastern Virginia Medical School. He trained in general surgery and otolaryngology at Eastern Virginia Medical School.
Dr. Anderson currently practices at FENTA's Mid Tampa and South Tampa offices, seeing both adult and pediatric patients and treating the full spectrum of general otolaryngology.
One of the Florida E.N.T. & Allergy Managing Partners, Scott Powell, M.D., MBA, commented that "Becoming a Partner at Florida E.N.T. & Allergy is a great accomplishment. Dr. Anderson has demonstrated through his expertise and dedication to quality patient care that he will be an excellent addition to our partnership."
To learn more about Florida E.N.T. & Allergy, find an office near you, or schedule an appointment, please visit www.floridaentandallergy.com or call (813) 879-8045.
About Florida ENT and Allergy:
The physicians of Florida E.N.T. & Allergy have served the Tampa Bay community for over 45 years. Our board-certified physicians and doctors of audiology have completed extensive education and clinical training as well as specialized training in their area(s) of expertise. From pediatric allergies to fitting hearing aids, our caring and experienced providers specialize in ear, nose and throat care for the entire family using comprehensive, cutting edge technologies.