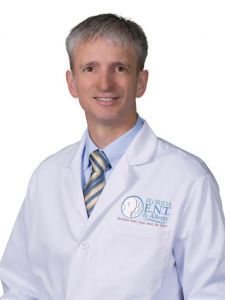 Education
Undergraduate: University of Florida
Graduate School, Ph.D: University of Florida College of Medicine, Department of Molecular Genetics and Microbiology
Medical Degree: University of Florida College of Medicine
Residency: University of Virginia Medical Center, Charlottesville, Department of Otolaryngology –Head and Neck Surgery
Awards and Honors
First Place Clinical Research Award, "FNA and Spindle Cell Lesions of the Head and Neck," University of Virginia Fitz-Hugh Symposium, 2002
First Place Clinical Research Award, "Sinonasal Undifferentiated Carcinoma: the Search for a Better Outcome," University of Virginia Fitz-Hugh Symposium, 2001
AOA Senior Inductee
Phi Beta Kappa
Haven Perkins Medical Guild Award for Academic Achievement, 1992
American Heart Association Medical Student Fellowship, 1992-1993
Inspire Physician of Excellence

Locations
Surgery Locations
Select Physicians Surgery Center
Advent Health – Tampa
St. Joseph's Hospital
Hospital Affiliations
Advent Health – Tampa
Advent Health – Wesley Chapel
St. Joseph's Hospital
Languages Spoken
Hospital Affiliations
Advent Health – Tampa
Advent Health – Wesley Chapel
St. Joseph's Hospital
Professional Affiliations
Board Certified by:
Membership:
Specialties
Dr. Musy practices surgical and medical management of a variety of ear, nose, and throat problems. He has a particular interest in sinonasal problems, and cares for both adult and pediatric patients.
Dr. Musy offers the Inspire treatment for Obstructive Sleep Apnea (OSA) – an alternative to CP

On a Personal Note
Dr. Musy grew up in the suburbs of Kansas City, leaving in 1985 to attend the University of Florida. He practiced ENT in Montana for six years and Washington D.C. for five years before joining Florida E.N.T. & Allergy.