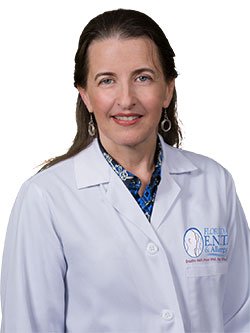 Education
Undergraduate: Wellesley College, University of Florida
Medical Degree: University of Miami
Internship: Waterbury Hospital General Surgery, Transitional Program at Louisiana State University Medical Center
Residency: Louisiana State University Medical Center – Otolaryngology
Professional Affiliations
Board Certified by:
Membership:

Hillsborough County Medical Association, 2001
Florida Medical Association, 1998
American Academy of Facial Plastic and Reconstructive Surgery, 1996
Fellow, American Academy of Otolaryngologic Allergy, 1992
Fellow, American Academy of Otolaryngology/Head and Neck Surgery, 1990
American Medical Association, 1985

Offices:

HCMA Executive Council Representative-at-Large, 2010-2012
HCMA Board of Censors, 2010-2012
HCMA Treasurer, 2005
HCMA Delegate to Florida Medical Association, 2002-2011
HCMA Secretary, 2002, 2009
HCMA Membership Committee, 2002-2005
HCMA Executive Council Representative, District 3, 2002-2004
HCMA Legislative Committee, 2001-Present
Locations
Languages Spoken
Specialties
Dr. Baines is board certified and her interests lie in Pediatric ENT, allergy, nose and sinus surgery, thyroid surgery, and facial cosmetic surgery including skin cancers.
On a Personal Note
Dr. Baines had her own practice for 11 years before joining Florida E.N.T. & Allergy in July 2012.
In the News
COVID-19 Cold vs. Allergies Interview with Dr. Baines from Florida ENT and Allergy
Dr. Baines was interviewed by a Scripps producer regarding cold vs. allergy symptoms in correlation with COVID-19.