Jeremy B. Rogers, M.D.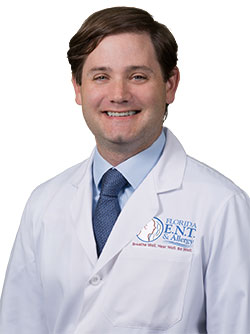 Education
Undergraduate: University of Georgia – B.S. Biology with high honors, magna cum laude
Medical Degree: Medical College of Georgia
Internship: Vanderbilt University Medical Center – General Surgery
Residency: University of South Florida – Otolaryngology
Chief Resident: University of South Florida – Otolaryngology
Awards and Honors
Blue Cross and Blueshield of Georgia Award for Population Health Research, 2001
Phi Beta Kappa, 2000
Phi Kappa Phi, 1998
Charter Scholarship, 1996 – 2000
Governor's Scholarship, 1996 – 2000
Professional Affiliations
Board Certified by:

Locations
Research / Publications
Jackson LL, Wade Z, Hessler RB, Abdelsayed R, Rogers JB, Gourin CG. Quantitative Analysis of Syndecan-1 Expression in Dysplasia and Squamous Cell Carcinoma of the Oral Cavity. Laryngoscope. 2007 May;117(5):868-71.
Rogers JB, Patil Y, Strickland-Marmol L, Padhya T.   Lipomatous Tumors of the Parapharyngeal Space. Archives of Otolaryngology. 2010 June; 136(6):621-4.
Rogers JB, McCaffrey T. Inflammatory Disorders of the Salivary Gland. Cummings Otolaryngology Head and Neck Surgery, 5th edition.